So now we finally know what Samsung have in store for us, as last night at a very unusual product unveiling in New York, the waiting audience got to see the Samsung Galaxy S4 for the first time.
The device is due for release in the UK by the end of April, and as well as going head to head with the iPhone 5 in the battle for smartphone supremacy, the Galaxy S4 will also see its attempt to be the number one Android device challenged by the recently announced HTC One, which is set to be released some four weeks before the Galaxy S4, at the end of March.
So let us now take a look at the inside track on these two phones, to see which one has what it takes to be numero uno.
HTC One
The HTC One is constructed from an all metallic unibody chassis, which gives the device a feel of supreme quality and durability. Dominating the device is the huge 4.7 inch, true HD display. The Super LCD3 screen has a pixel density of 469 ppi, with a resolution of 1080 x 1920. The screen is protected by Corning Gorilla Glass 2, and the handset weighs in at 143g, with measurements of 137.4 x 68.2 x 9.3mm
The device runs Android 4.1.2 Jelly Bean out of the box, with a planned upgrade due to be made available to the device to bring it up to Android 4.2.2 soon after release. The handset is powered by a quad core 1.7 GHz processor, and has 2GB RAM, with either 32GB or 64GB of internal memory available. There is no memory card slot.
The handset has a 4.0 Megapixel camera, but uses new Ultrapixel technology. HTC say they are moving away from the rave to bring out a camera with the highest number of Megapixels, instead focussing on other areas that will enable them to produce class leading imaging devices.
Ultrapixel technology gathers in up to 300% more light than traditional cameraphone sensors, which helps the camera deliver excellent picture quality, even in low light conditions. The camera on the HTC One includes a feature called 'Zoe', which gives the ability to shoot high-res photos that come to life in three second snippets.
The camera is capable of recording 1080p HD video at 30 frames per second, with stereo sound capture, and offers video stabilisation with a Multi-axis optical image stabilisation feature built in. There is also a front facing 2.1 Megapixel camera, which can also record 1080p HD video at 30 frames per second.
The HTC One features a completely redesigned version of the HTC UI, HTC Sense 5.0. The most notable feature is HTC BlinkFeed, which transforms the home screen of the phone into a single live stream or personally relevant information, such as update from friends via messaging and social networks, news feeds, and so on. HTC will have access to global content from over 1,400 media sources, providing over 10,000 articles a day. Content will be available from sources such as ESPN, AOL, MTV, Reuters, and many more.
BoomSound is the name HTC have given to the new audio feature on their new flagship smartphone. The handset has stereo front facing speakers, with a dedicated amplifier, that delivers a supreme audio experience. Beats audio is also included, meaning whether you are listening to music or watching a video, the sound experience will be just as great, with or without earphones.
The HTC One offers LTE 4G connectivity, along with HSPA+ and WiFi. The handset also includes GPRS, EDGE, Bluetooth and NFC, and supports TV Out via MHL A/V link. There is a stereo FM radio with RDS, full media player supporting DivX and XviD amongst others, plus GPS with aGPS and GLONASS.
An interesting addition to the HTC One is the inclusion of an Infra Red port, which is located under the power button. Infra Red as a technology used to be available on early smartphones to allow the transfer of data, and for them to connect to a Laptop to be used as a wireless modem. The technology dropped away as Bluetooth become more reliable and prevalent, but HTC have decided to include Infra Red on the device, so that it can be used as a remote control for the TV. In addition, HTC have a software feature on the handset that offers users an interactive program guide, so you can view the listings for local TV channels within your area. The device is compatible with most TV's, Set Top Boxes and Satellite Receivers.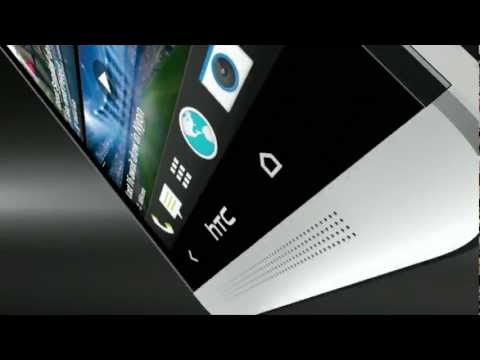 Overall, the HTC One stands out as a superb device, worthy of the flagship banner it will carry into 2013 for the Taiwanese manufacturer.
Samsung Galaxy S4
Samsung are riding a wave of popularity within the mobile industry that is propelling them along, mainly on the back of the strong sales of the Galaxy S3. As with any device that popular, following it up is always going to be tough. With the Galaxy S4, Samsung are focussing on the close relationship users have with their devices, marketing the S4 as your 'Life Companion'.
The S4 is made from a tough, polycarbonate plastic shell, and offers a whopping 5.0 inch Super AMOLED display. The screen has a pixel resolution of 1080 x 1920, giving an impressive 441 ppi. The screen is protected by Corning Gorilla Glass 3, and the device overall measures 136.6 x 69.8 x 7.9mm, weighing 130g.
Samsung say that the idea behind the features they have included on the S4 are designed to enhance the way we live, based on insights and feedback from developers and consumers. The handset is equipped with a high quality 13.0 Megapixel rear facing camera, which boasts a 'Dual Camera' feature. This allows both the front facing 2.0 Megapixel camera and the rear facing camera to be used at the same time. This allows users to insert themselves into videos and images captured on the S4. The Dual Camera is also available on video calls, so you can be talking to family on the front facing camera and showing them what is around you via the rear facing camera at the same time.
A number of shot modes are available, allowing you to create unique effects on pictures, including Drama Shot, which allows you to capture all the action in one continuous time lapse, and Sound Shot, which captures snippets of audio when you take a picture on the phone.
A feature on the S4 called Group Play allows users to share music, photos and documents with those around them, without needing to rely on a WiFi or cellular connection, whilst 'Share Music' lets users have the same song playing on multiple devices at the same time.
Another feature available on the Galaxy S4 is S Translator. This features provides instant translation from a number of major languages, with input via voice or text. The app is deeply embedded within the overall handset, so you can also use it to translate text messages, emails and IM's sent via ChatON.
Smart Pause enables you to control the the display of the phone, depending on where you look. If you are watching a video, and look away, the video pauses, and resumes playback when your eyes come back to the screen. Smart Scroll lets you control the web browser and scroll through emails without touching the screen. The handset detects where you are looking on the screen, and with a tilt of the wrist you can enable the web page or a long email to scroll down, automatically.
The Air View feature on the Galaxy S4 lets you see previews of content on the device without having to open it. Simply hover your finger over the screen, and you can preview emails, images and videos. There is even an option to see a magnified view when web browsing, or looking at a phone number in your contacts list. The Air Gesture feature lets you skip through music tracks, or scroll up and down on a web page, or even accept an incoming call, just by waving your hand over the device.
The Galaxy S4 also includes an Infra Red port, which is equipped to connect to a range of TV's, Set Top Boxes and Satellite Receivers. The device will access an electronic Program Guide, so you can view what is available to watch, then tune in, all via the handset.
Samsung are also interested in your health and wellbeing, and have included a number of sensors built in to the phone, along with some additional software features. There is a step counter, and a calorie counter, a sleep monitor, and sensors that can detect the ambient air temperature and humidity.
Alongside all these amazing software enhancements, the Galaxy S4 is a powerful smartphone. Running on Android 4.2.2 out of the box, the handset has a quad core 1.6 GHz processor and a quad core 1.2 GHz processor. With 2GB RAM, the handset comes with either 16, 32 or 64GB internal memory, and also supports memory expansion with MicroSD memory cards.
The handset supports 4G LTE, HSPA+ and WiFi, as well as offering Bluetooth and NFC. TV Out is supported via an MHL A/V link, and there is also support for wireless charging in some markets. There is a full media player supporting most popular audio and video formats, plus a built in GPS receiver with aGPS and GLONASS.
Summary
With the HTC One, and Samsung Galaxy S4, we have two of the most up to date and feature packed smartphones ever to be released. Each offers excellent imaging capabilities and features, powerful processors, copious amounts of memory storage, a full multimedia experience, and access to high speed data.
Whilst on the face of it, the handsets are hard to judge between, when you look through the list of features, the Galaxy S4 seems to have the edge in terms of innovative options. Samsung have really worked hard to produce a stunning handset that is a worthy successor to the Galaxy S3. The HTC One is by no means second best, and is a worthy alternative to the Samsung device. Although not mentioned in this article, the Sony Xperia Z could also be thrown into the mix, giving three excellent devices to choose from, for fans of the Android operating system.
Now that HTC and Samsung have played their trump devices, it remains to be seen what Apple will be able to produce when they announce a successor to the iPhone 5. Whilst the iPhone is always going to have a core of fans, the iPhone 5 is a long way behind these two devices, and the pressure will now be on Apple to produce something special with their next handset launch.
Which handset will you be going for? The HTC One? Or the Samsung Galaxy S4? Or do you have your eye on the Sony Xperia Z, or will you be waiting to see what Apple offer with their new iPhone? Let us know in the comments below, or via Facebook, Twitter or Google+