Entering text on a smartphone, using a touchscreen keyboard, has never been the easiest of tasks. For some, the tactile feel of entering text on a proper keypad, with real keys, has never been equalled on a smartphone.
One of the alternatives to typing on a touchscreen is to use swiping instead. When swiping, you don't need to tap away at the display, you just slide your finger effortlessly across the screen, sliding across the letters in the word you wish to enter.
It can take a little bit of getting used to, but once you are up and running with using a swipe entry system for text, you can really gain momentum, and enter text even faster than using the traditional keypad method.
One of the first apps that offered this kind of text entry was Swype, which came from the same people who invented the T9 predictive text method which was such a benefit to heavy texters with traditional alphanumeric keypads.
In more recent times, Google have introduced a swipe text entry method with the latest Android version, Android 4.2, and now another established name is introducing swiping to their userbase.
Swiftkey have long been recognised as one of the premium apps for alternative methods of text entry on Android devices. Using a tap entry system, the intelligent software would learn from the words you used, and could easily predict the next word you would enter in a text message. This meant that you wouldn't even need to enter a large part of the message, as you could easily compose from the suggested words offered.
Now Swiftkey have released a beta app, called Swiftkey Flow. This allows you to enter words by swiping your finger across the screen, and still be able to take advantage of Swiftkey's superior word prediction system.
Not just wanting to be another swipe entry alternative, Swiftkey have also included a feature called Flow through Space. This sounds exotic, but in reality what it means is you can now compose whole messages using Flow without having to take your finger from the screen. You can enter a space between words, just by flowing through the space key. A simple option, but one that can help improve the speed of text entry.
Swiftkey learns from your typing habits, so it is worth while going through the settings once you have installed the app, and giving permission for the app to access your SMS, Email, Facebook and Twitter accounts. No personal information is stored, but it allows Swiftkey to learn more about your typing style, the more access it has to the messages you write.
It is important to note that Swiftkey Flow is still in beta, so there are bugs to iron out. If you download the app, be prepared for issues with word recognition and next word prediction accuracy.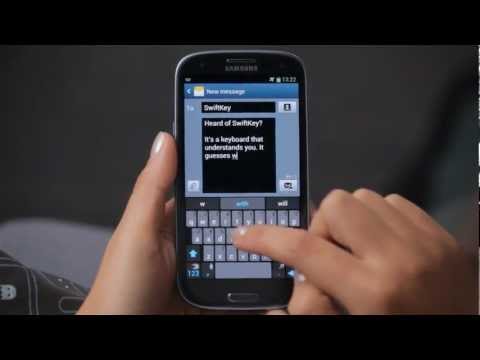 It is too early to say if Swiftkey Flow is set to be the best swipe/type option available for smartphones, but with their pedigree in the market, all the elements are in place for this to be the case.
To download Swiftkey Flow Beta, head to the Swiftkey website, and follow the instructions from there.