Rovio has launched Angry Birds Star Wars, the latest instalment in the popular gaming series. The game is available across multiple platforms, including iOS, Android and Windows Phone.
Angry Birds Star Wars uses locations from within the films in the gameplay, and introduces familiar characters from the series into the gameplay, including Luke Skywalker, Princess Leia, Han Solo, Obi-Wan Kenobe, Chewbacca, C-3PO, R2D2 and Darth Vader.
Characters can make use of weapons, including lasers and light sabres, against the pigs who are hiding away inside space stations protected by laser cannons and tie fighters.
Special moves are available, for example R2D2 can shock, C-3PO explodes with a tap on the screen, and Obi-Wan Kenobe can use a special Jedi style force attack against the dastardly pigs. Another special appearance in the game comes from the Millennium Falcon, replacing the Mighty Eagle power-up.
Rovio has tied in the various gameplay phyiscs of previous Angry Birds titles, with the familiar slingshot launching action, combined with gravity ruled moves seen in Angry Birds Space.
The game is visually pleasing, and all the sound effects are straight out of the Star Wars film, whilst the gameplay is as simple and addictive as before.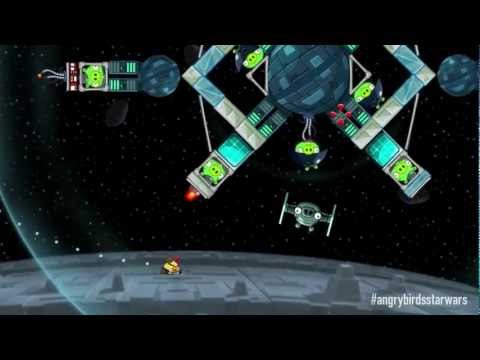 Angry Birds Star Wars is available for 69p for the iPhone, and £1.99 for the iPad, and can be downloaded from the Apple App Store. The Android version is free, with in-game ads, and can be downloaded from the Google Play Store. The version for Windows Phone costs 79p, and can be downloaded from the Windows Marketplace.