Google has rolled out a fresh update to Google Maps for Android, bringing a number of new features to Android smartphones and Tablets.
The updated navigation app includes an Explore feature, which helps users to discover local restaurants, bars, cafés, hotels and shops, which are presented in the familiar card style used with Google Now.
User reviews are an important part of these type of search results, and Google will be folding in feedback on local establishments provided by the Google owned Zagat service. As well as viewing the reviews from others, Google Maps users will also be able to leave reviews of their own from within the Google Maps app.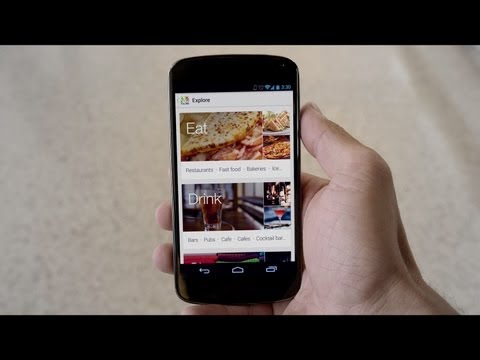 The app also offers enhanced navigation features, which allow current driving conditions to be checked, with alternative routes offered to navigate around any traffic delays that are noted on your journey. Any news of incidents pop up on the screen in small boxes, which you can tap to expand to see more information. Google Maps will also offer a reroute plan during your journey, if a faster option becomes available mid-journey.
The way Google Maps handles offline mapping is changing with the new update. Instead of selecting an area to download to your device, you need to type 'OK Maps' into the search box to save the area you are currently viewing for later access.
Some other features that will disappear include Latitude and Check-ins, although Google are swift to reassure fans of these services that they are not being done away with totally. Instead, location sharing and check-ins will be rolled in to the Google+ app, and the same will apply to the iOS version of Google+, too.
The latest version of Google Maps is only compatible with the latest version of the Android OS, which means that it is currently limited to just a number of the most recent handsets, however as more manufacturers upgrade their devices to Jelly Bean 4.0.3 and above the app will become available to a wider number of users. Users of iOS devices will need to be running iOS 6.0 or above to get the updated Google Maps app. There's no news on a release date just yet, but hopefully it won't be too far in the future.